The tantalising waft of rich fried foods. The aroma of pungent herbs and unctuous soups mingling together with the rich warmth of saffron and cardamom-laden sweets. The earthy brittle scent of pistachio twining against sparklingly-sugary rose.  Balmy meditative nights rife with the drifting scent of Bakhoor merging with the unabashed fragrance of liberal swipes of Oudh Oil–  Ramadhan truly is 'The Scented Month.'
Many of us enjoy a variety of oils and attars but few of us have experienced the enjoyment that is synonymous with heating fragrant matter. Our campaign 'The Scented Month' was with the vision to encourage all our customers to actively burn aromatic material to experience a unique dimension of scent during this blessed month.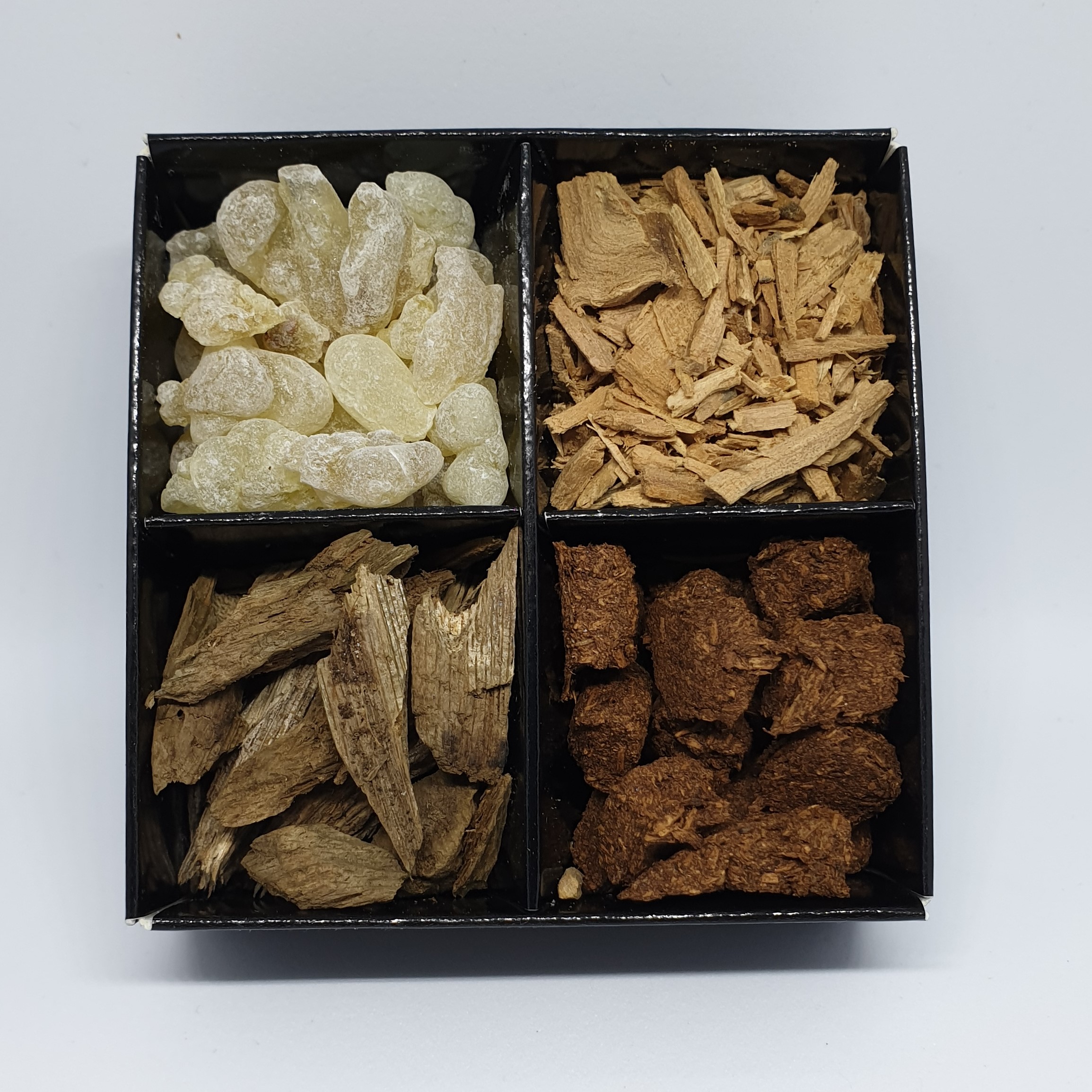 The aim of the campaign 'The Scented Month' is to make accessible to all the wondrous world of burning and heating scented materials. The pleasures of heating woods and resins is on many levels: from creating a beautiful and calming ambience, be it for worship, meditation or leisure to scenting ones skin, hair and clothing. Whilst the scents of oils and sprays last some hours, the smell of scented smoke on clothes can lasts for days and weeks.
With this in mind we have created these wonderful fragrant quartets; a beautiful compilation of 4 distinct scents characteristic of the month of Ramadhan; Frankincense, Sandalwood, Brunei Oudh & Khaleeji Bakhoor cubes for you to enjoy at your leisure in the coming Ramadhan nights.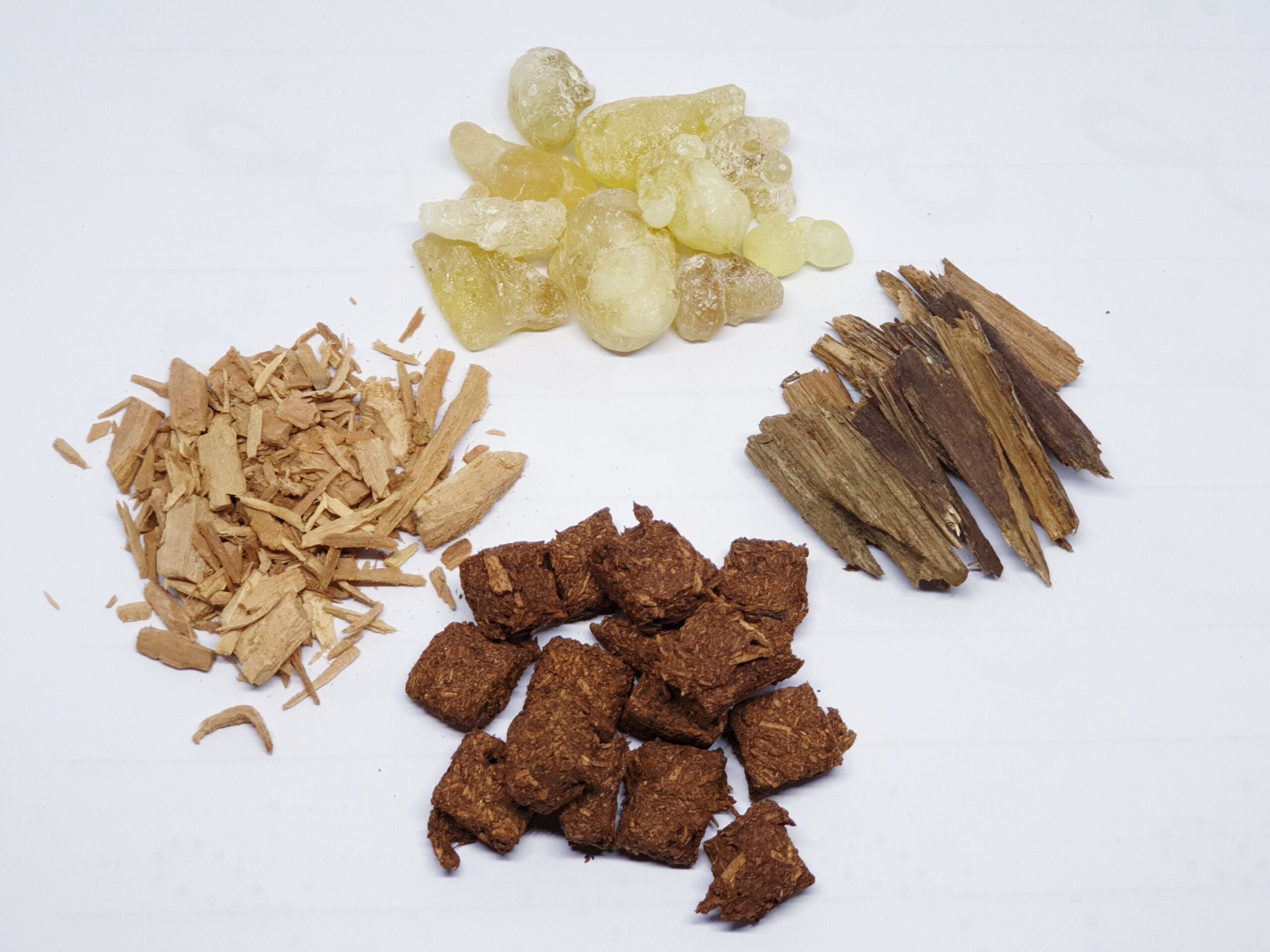 1. ROYAL DHIKR: From the renowned Hujary Frankincense 'Dhikr' is the crown of frankincense according to the Omanis themselves. Collected from the oldest of trees and hand-sorted by the harvesters themselves the Dhikr Hujary are not collected based upon colour, the focus is purely on scent. Dhikr in Arabic means 'remembrance'– in Islamic reference it refers to the remembrance of Allah. As the best of scents and fragrances are offered at the time of Dhikr the Omani's named this frankincense Dhikr as they regard this to have the best scent profile of the Frankincense family and one to be utilised during Ramadhan when the night prayers are performed.
2.INDIAN SANDALWOOD:  100+ year old pieces of Indian Sandalwood, these woods are even fragrant at room temperature. Whilst these are not from Mysore the scent profile and fragrant pleasure it offers is incredibly satisfying and calming. These are not off cuts or waste – they were specifically hand-chiselled from larger blocks by Al Shareef for 'The Scented Month' collection.
3. BRUNEI OUDH: Fragrant chips, from a region that is rare these days to get quality chips. Neither thick nor particularly visually beautiful, however this is old stock that speaks for itself when on the heater. Little slices of Oudh wood that will scent your living space beyond words – and the scent on clothing is divine; Very oudhy oriental resin scent with a musky rose layering, calming and somewhat assuring of what is to come. Vanilla pods paired with the tail ends of bubbling resin, not the high notes but the more smoother endings, cinnamon sticks, fresh walnut shells and aged wood boxes, the experience is more a complete perfume than a single wood.
4. BESPOKE BAKHOOR: Al Shareefs hand crafted bakhoor that consists of some of the most exquisite ingredients known to man; Oudh, Musk and Saffron to name a few. When it comes to traditional compositions of bakhoor and fragrance then this is something we pride ourselves in. These cubes are the toil of love and passion; to make these cubes the process is initiated months earlier with the grounding of the woods that form the foundation for the scent portrait. After the woods the resins are grounded and then in perfect proportions the herbs and spices; saffron, clove, cinnamon to name a few are added. These are then mixed with the woods and then comes the oils, roses and other fragrant material. After being blended and left to rest for 6 months they are further grounded into a powder and then kneaded and rested. They are then rolled, cut, and let to dry for 3 days. Hand crafted with no combustion materials such as charcoal, these are pure and natural ingredients prepared with love and passion – when you smell them you will fall in love with them.
The packs are a 40 grams. Unveil a new sensory experience with Al Shareef for this Ramadhan.
The packs are being released early to make sure that in these difficult times you receive your goods in time for Ramadhan.